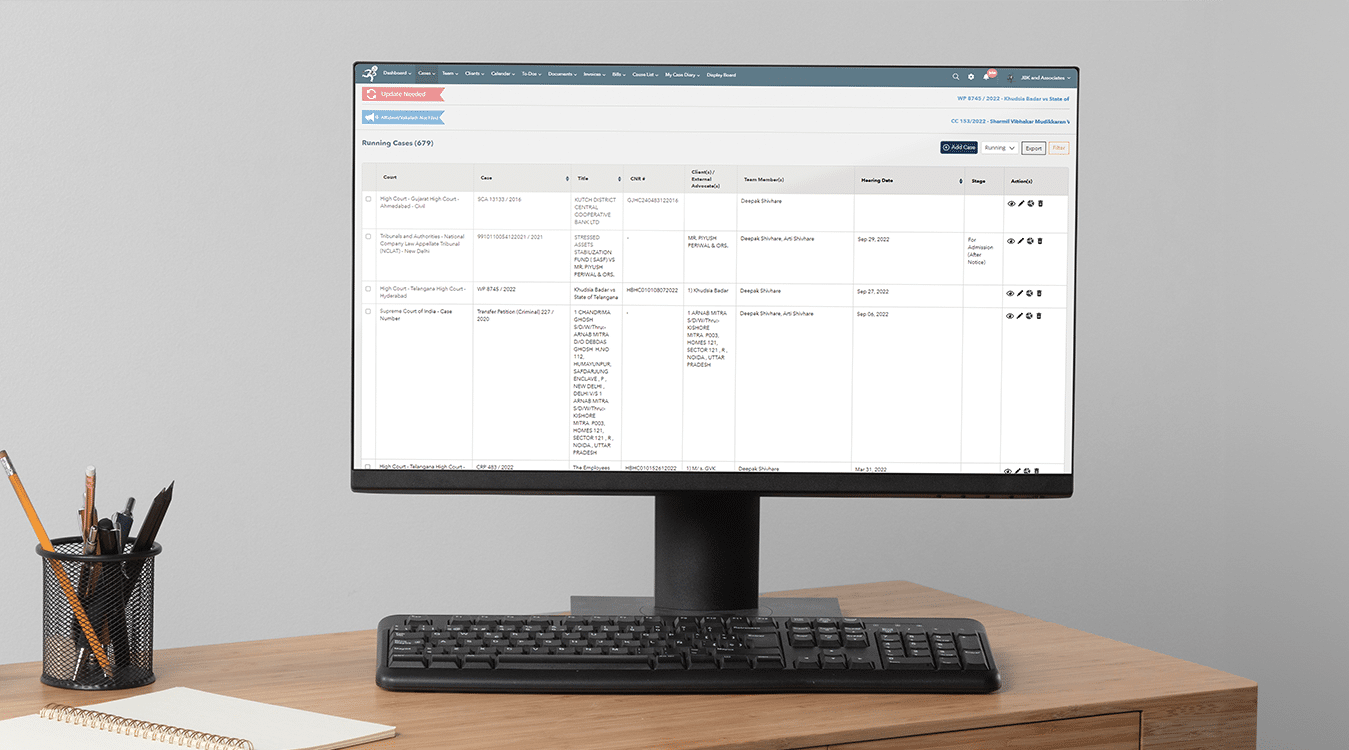 Effortless Case Tracking and Documentation: Revolutionising Legal Processes with Case Management Software
August 12, 2023
Navigating the intricate landscape of the legal field demands impeccable organisation, precision and constant attention to detail. Lawyers often find themselves juggling multiple cases, court appearances and voluminous documentation, all while striving to provide the best possible representation for their clients. In the era of digital transformation, the legal industry is embracing innovative solutions to streamline these complex processes.
A solution that has garnered significant attention is case management software. Case management software is reshaping the way legal professionals handle their cases, bringing efficiency, accuracy and a breath of fresh air to their daily routines. It synchronises case posting dates with court schedules, automates data retrieval and ensures seamless coordination – ultimately leading to smoother workflows and enhanced client service.
Automated Synchronisation of Case Posting Dates with Courts
One of the most tedious tasks for lawyers is keeping track of case posting dates and hearings scheduled at various courts. Traditionally, this required manual monitoring of court websites, cross-referencing dates and updating personal calendars. However, with the advent of advanced case management software, this process has been made easy and accurate.
By leveraging available data from court websites, the case management software automatically populates your case calendar with the next hearing dates. This automated data sync not only saves a substantial amount of time but also eliminates the possibility of errors that can arise from manual data entry.
Effortless Record-Keeping and Notifications
Once the software captures the upcoming hearing dates, it goes a step further by recording them in an organised and easily accessible manner. This eliminates the need for lawyers to maintain separate paper records for each case. All the crucial information is available at your fingertips within the software's interface.
However, having the information within the software is not the end of the story. To ensure lawyers stay informed and prepared, the software goes a step further by sending automated alerts. These timely reminders are sent well in advance of the hearing dates, giving lawyers ample time to plan their schedules, gather necessary documents and coordinate with their team.
Conflict Resolution and Schedule Planning
A significant headache in the legal profession arises when multiple cases have hearings scheduled for the same day. This can lead to conflicts, last-minute rushes to courts and compromised representation. Case management software tackles this issue by identifying potential conflicts in hearing dates. By analysing the synchronised data, the software alerts lawyers about overlapping schedules, allowing them to take proactive measures to resolve the conflicts.
The ability to identify scheduling conflicts in advance empowers lawyers to plan their work and teamwork efficiently. With automated reminders well ahead of time, the entire team can adjust their commitments to ensure that schedules never clash.
Enhanced Efficiency and Time Management
The benefits of using case management software are far-reaching. The software streamlines the entire legal process, which allows lawyers to focus more on the core aspects of their profession – providing sound legal counsel, preparing cases and representing clients effectively. This enhanced efficiency not only boosts the reputation of legal professionals but also results in better outcomes for their clients.
In a world where time is of the essence and accuracy is paramount, the adoption of case management software stands as a testament to the legal industry's embrace of technological advancements. With the ability to seamlessly integrate into a lawyer's workflow, case management software is transforming how legal professionals operate, making their work more manageable, organised and ultimately, more successful. 
Manage My Lawsuits – Revolutionising Legal Case Management
Manage My Lawsuits, is a cutting-edge case management software designed to empower legal professionals with a comprehensive suite of tools for streamlined and efficient case tracking. This innovative software not only synchronises case posting dates with court schedules, ensuring you never miss a crucial deadline, but also revolutionises the way you retrieve and manage essential case data. With its user-friendly interface and automated notifications, Manage My Lawsuits minimises errors, enhances collaboration among legal teams and allows you to focus on what truly matters – providing exceptional legal counsel and representation for your clients. Embrace the future of legal case management with Manage My Lawsuits and unlock a new level of productivity and success in your practice.
Get a Free Demo of Manage My Lawsuits - A Powerful Litigation Management Software
We know this software is one of the best legal case management software but seeing is believing. Please submit the following form and we will call you back.
---
© Copyright Manage My Lawsuits, 2023. All Rights Reserved.