Manage My Lawsuits offers a complete case management solution for lawyers, law firms and corporate legal departments. This feature is packed with a number of sub-features that enable you to do more in less time. Here is a run-down of the sub-features – we encourage you to try our software for free to review its capabilities thoroughly.
1. Add or export cases
Add any number of cases by court, case type, and number and year. The software automatically pulls relevant data from the respective court website and auto-fills details such as clients, opponents, opponent advocates, Hon'ble judges and court hall..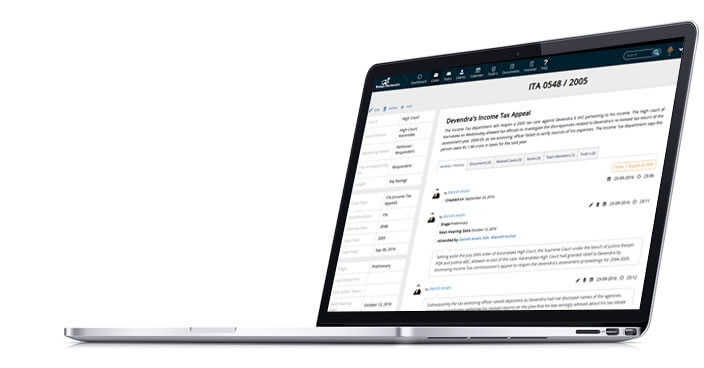 Everything you need to record, including a box to add a primary description of the case, is provided. You can assign each case to all or some of the team members that you have added to the software for the purpose of collaboration. You can also record date of filing and add a primary description about the case, client or any relevant particulars.
Once you have a list of cases, you can sort and view by 'running', 'closed' or 'transferred/NOC' filters. You also have the option to save a PDF or excel version of your cases.
2. Search for cases efficiently
Filter cases by a number of criteria, such as title, case number, client, team member and more. There is no other quicker way to find and refer to cases, especially if you're working on a number of cases and have a full case diary.
3. Activity/History
Record just about anything: Log any activity, from meeting minutes to client conferencing – anything that you wish to note down for future reference or sharing with other team members, you can do here.
Note next hearing date: Record the next hearing date or resolution, along with details such as who attended, stage of the case and other details. Whatever you record here is automatically updated in your activity log and searchable.
Quick client updates: If you want, you can inform your client about these details to update them about the progress of their case and notify them about the next court date so they can set reminders from their side too. Whatever you send to client via email or SMS is recorded in the system until such time that you delete it.
4. Documents
There's always a secure and unlimited storage for your documents. You are never limited by the quantity of case data you can store or share.
Upload or download several documents at a time
Choose to keep documents private or grant access as needed
Filter documents by case, title, time, uploader and type
You can view the common documents assigned to multiple cases
5. Notes
Add notes to any case or every case you want. Share your notes with team members or mark them as private.
Prepare case notes and modify later
Download notes as PDFs for reference during arguments in court
Add highlights of a conversation with client and review or edit at a later time.
Never lose your case notes – they are always accessible in the system until you delete them!
6. To-dos
Manage My Lawsuits offers you a simple way to add to-dos/tasks, notes and documents to cases. You can quickly refer back to the tasks you assigned to yourself or your team, and check if you have uploaded all the case-related documents you intended to.
Edit your notes and to-dos or make any changes directly for each case.
Link tasks to cases
Set calendar deadlines
Assign tasks to team members
Filter and view only your tasks or everyone's to-dos
View pending, upcoming and completed tasks
Tasks are automatically converted into calendar entries
Set email and/or SMS reminders to your own frequencies for the exact alerts you want
7. Related Cases
Legal orders and related matters can be interrelated. This feature allows you to link a case with one or more related cases to form a map of useful connections. It can help you get the full picture or join the dots easily to understand the relationships and interdependencies of different matters.
As everything is before you on a single interface, you don't have to compare physical documents or take down notes in your notepad. Instead, use the 'notes' feature to enter points about the case and relate it to others in a matter of seconds. All the connected and related matters are mapped in one place. When you're working on a case, you can easily see what are the connected matters linked to that case.
8. Orders/Judgments
Under this tab, you get a consolidated view of your case-related orders and judgments retrieved from court websites.
9. Timesheet
Time is our most valuable resource. Manage My Lawsuits enables you to manage your time as well as track time spent by team members on case-related activities. Record details of activity, time taken for the particular activity by each team member, and delete and edit as needed.
10. Expenses
Create a record of expenses that client needs to reimburse to you or your firm. The software also adds up each individual expense and displays the total money spent, saving you time on number crunching.
11. Case details always visible
Every case can be expected to have a number of related details. Our software offers you a view of all the details you have entered, cases related and documents uploaded for each matter in a clean, clutter-free way.
Get a Free Demo of Manage My Lawsuits - A Powerful Litigation Management Software
We know this software is one of the best legal case management software but seeing is believing. Please submit the following form and we will call you back.
---
© Copyright Manage My Lawsuits, 2023. All Rights Reserved.