Lawyers and law firms often complain about the amount of time and effort needed to file and retrieve documents. It doesn't take long to outgrow document storage on a local file server or a basic cloud storage. And if you're doing it the old-fashioned way by storing documents in physical files, maintenance costs and risk of damage from natural disasters or water, fire, humidity or acid, are just too much to take on.
Manage My Lawsuits' web-based documents management promises unlimited storage, excellent security and the most efficient way to link, streamline and facilitate collaboration around case data. It also comes with a number of handy UX and client relationship features that you are sure to appreciate.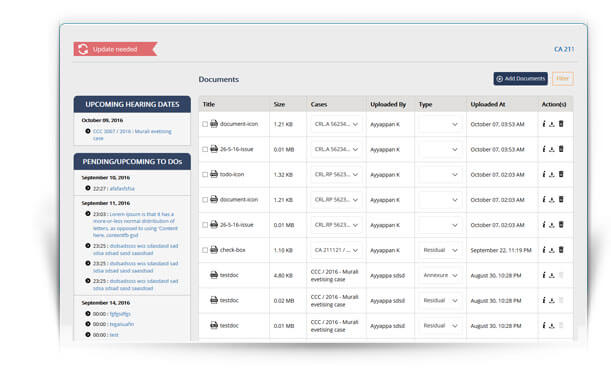 Upload or download several documents at a time
Assign common documents to multiple cases
Get a top-level view of all uploaded documents on a single screen
View documents by title, size, type, time of upload and the name of team member who uploaded it
Filter documents by case, title, time, uploader and type
Choose to keep documents private or grant access as needed
Documents uploaded by you can be downloaded by team members but only you can edit or delete them
Simple drag and drop feature
Get a Free Demo of Manage My Lawsuits - A Powerful Litigation Management Software
We know this software is one of the best legal case management software but seeing is believing. Please submit the following form and we will call you back.
---
© Copyright Manage My Lawsuits, 2023. All Rights Reserved.