To-dos are indispensable
When your goal is to fight your case justly, aggressively and at proportionate costs, you will need to consider many factors. Are you fully aware of the complexity of the issue? Are all parties on the same page? Do you want the case dealt with in a fair and expeditious manner? Is it necessary to appropriately allocate aspects of the case to multiple team members and resources?
To-dos are an effective way to assign priorities, build momentum, collaborate without confusions and ensure that action steps are taken on time, every time. They are also essential to manage work overload effectively, helping you and your team members stay focused and organized.
Beyond your cases, to-dos help in strengthening the efficiency of day-to-day firm operations while also positively influencing individual productivity. They play an important role in enabling lawyers and law firms to produce the results they seek.
Manage My Lawsuits offers an unbeatable way to organize individual and team tasks
Never miss a deadline again. Simplify delegation. Keep team members on their toes. Always stay in control of cases and high-priority projects.
Create any number of to-do tasks

Link tasks to cases

Set calendar deadlines

Assign tasks to team members

Filter and view only your tasks or everyone's to-dos

View pending, upcoming and completed tasks

Set email and/or SMS reminders to your own frequencies for the exact alerts you want; add additional reminders for mission-critical to-dos

Tasks are automatically converted into calendar entries

Edit or delete tasks as needed
Foster team spirit and a sense of accomplishment around collaborative tasks. Try out this feature by signing up for a free trial today.
You are fighting a complex, ongoing but not urgent case. A lot of discovery is needed, and evidence and confessions have to be collected, and you're working with a detective on the matter. Three more members of your team are involved in getting tasks done but they need direction from you. Our to-dos feature lets you create and assign tasks to the team members as well as set reminders for yourself to meet the people, get more details, make payments, consult a colleague and other tasks related to your case.

Your firm is representing a high-profile client and you must keep track of important court hearing dates as well as prepare in advance for the hearing. As you expect to spend a lot of time in court for this criminal litigation, you decide to create to-dos and reminders for other cases so you're up to speed with more matters instead of just one.

There are two new members on your team who are recent graduates. You assign to-dos to each on performing legal research and analyzing laws while you speak to clients and file briefs. You are also able to track the status of their tasks and give them feedback as needed.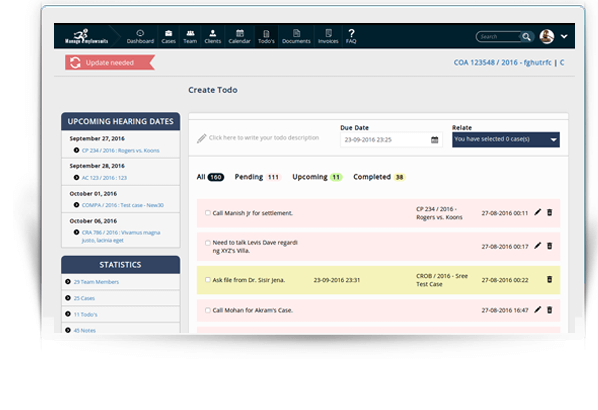 Get a Free Demo of Manage My Lawsuits - A Powerful Litigation Management Software
We know this software is one of the best legal case management software but seeing is believing. Please submit the following form and we will call you back.
---
© Copyright Manage My Lawsuits, 2023. All Rights Reserved.