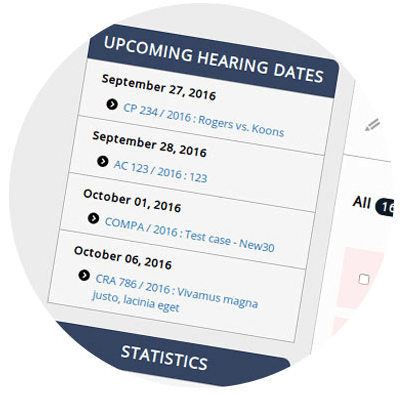 Keeping track of your hearing dates is a fundamental task. The cumbersome way to do it is to visit the court's website and then record the details on your phone/computer or a physical file for as long as the case remains open. With Manage My Lawsuits, you can keep track of hearing dates with exceptional efficiency.
It's simple as it can get. Once you input the basic details such as case type, number and year, the software pulls publicly available data from the Supreme Court, High Court or District Court website. Its auto synchronization feature instantly captures the new hearing date assigned by the court, and sends you an email and SMS/text message. It filters the hearing dates pertaining to your case only and automatically creates a calendar entry.
That means your case diary is created automatically. You can print it out or export to PDF and Excel. A huge benefit is the ability to generate your case diary for a week or month, and start planning and assigning tasks ahead of time.
No more wasting time visiting court websites every time and conducting a search. Do everything once on a single screen from the comfort of your dashboard and keep receiving reminders in a timely manner.
Thanks to auto synchronization, the new hearing date assigned by the court is captured, and an SMS/text message is instantly sent to you. The software keeps you and your team posted both via email and text message, ensuring an extra level of visibility and tracking. Additionally, your upcoming hearing dates and passed hearing dates appear on your dashboard.
Never miss your court date
Stay on top of your cases
Keep all concerned parties in the loop
Coordinate team effort
Plan your day and week more efficiently
Optimize workloads
Enjoy a healthy work-life balance
Get a Free Demo of Manage My Lawsuits - A Powerful Litigation Management Software
We know this software is one of the best legal case management software but seeing is believing. Please submit the following form and we will call you back.
---
© Copyright Manage My Lawsuits, 2023. All Rights Reserved.