Accuracy is paramount in the legal industry. In this field, even the smallest error can have significant consequences. One wrong word, one missed detail, or one overlooked document can have serious concerns. That's why accuracy is not just a desired quality; it's an absolute necessity. But what if you could take accuracy to the next level and make it effortless? Can effortless accuracy be the game changer in legal departments?
Make Accuracy Effortless
Achieving accuracy shouldn't be a cumbersome or time-consuming task. It's essential to find ways to make accuracy effortless, seamlessly integrating it into daily workflows and processes. By leveraging technological resources, streamlining procedures and implementing best practices, legal departments can optimise their operations to deliver accurate results consistently.
– Minimising Errors
One of the key strategies is to minimise errors from the very beginning. This starts with implementing robust systems and processes that reduce the likelihood of mistakes. By standardising document creation, using templates, leveraging technological aids and following established guidelines, legal departments can ensure that accuracy becomes a default setting. When everyone is on the same page and adhering to predefined standards, the chances of errors decrease significantly.
– Minimising Documents Review Mechanism 
Another crucial aspect is minimising the need for extensive document review mechanisms. Manual document review is not only time-consuming but also prone to human error. By leveraging technology, legal departments can employ advanced software and tools that automate the review process. These tools can flag potential errors, inconsistencies, or missing information, allowing legal professionals to focus their time and energy on higher-value tasks.
– Staying Up-to-date
Law firms and legal departments should invest in resources that provide real-time updates and comprehensive legal research capabilities. By having access to accurate and up-to-date information, legal professionals can confidently navigate complex legal issues and ensure compliance with applicable laws and regulations.
– Careful Legal Research
Thorough and careful legal research is the foundation of accurate and well-informed legal work. It involves diving deep to gather relevant information and insights. By conducting meticulous legal research, legal professionals can develop strong legal arguments. Careful legal research ensures that errors are minimised. A cloud based document management system ensures that the research is made effortlessly accurate.
– Ensuring Compliance & Regulations
By monitoring compliance requirements and staying on the right side of the law, legal professionals can help their organisation navigate legal obligations. Ensuring compliance protects law firms or legal departments from legal risks, financial penalties and reputational damage, while also fostering trust among clients. Automated case updates, e-filing etc. make the job of a legal professional that much easier.
– Enhancing Communication/Collaboration:
Effective communication and collaboration are essential in legal departments to ensure smooth operations and successful outcomes. Clear and concise communication among legal professionals, clients and other stakeholders is vital for understanding objectives, exchanging information and managing expectations. Collaboration tools and platforms facilitate seamless communication, enabling legal teams to work together efficiently, share documents, track progress and provide real-time updates.
Manage My Lawsuits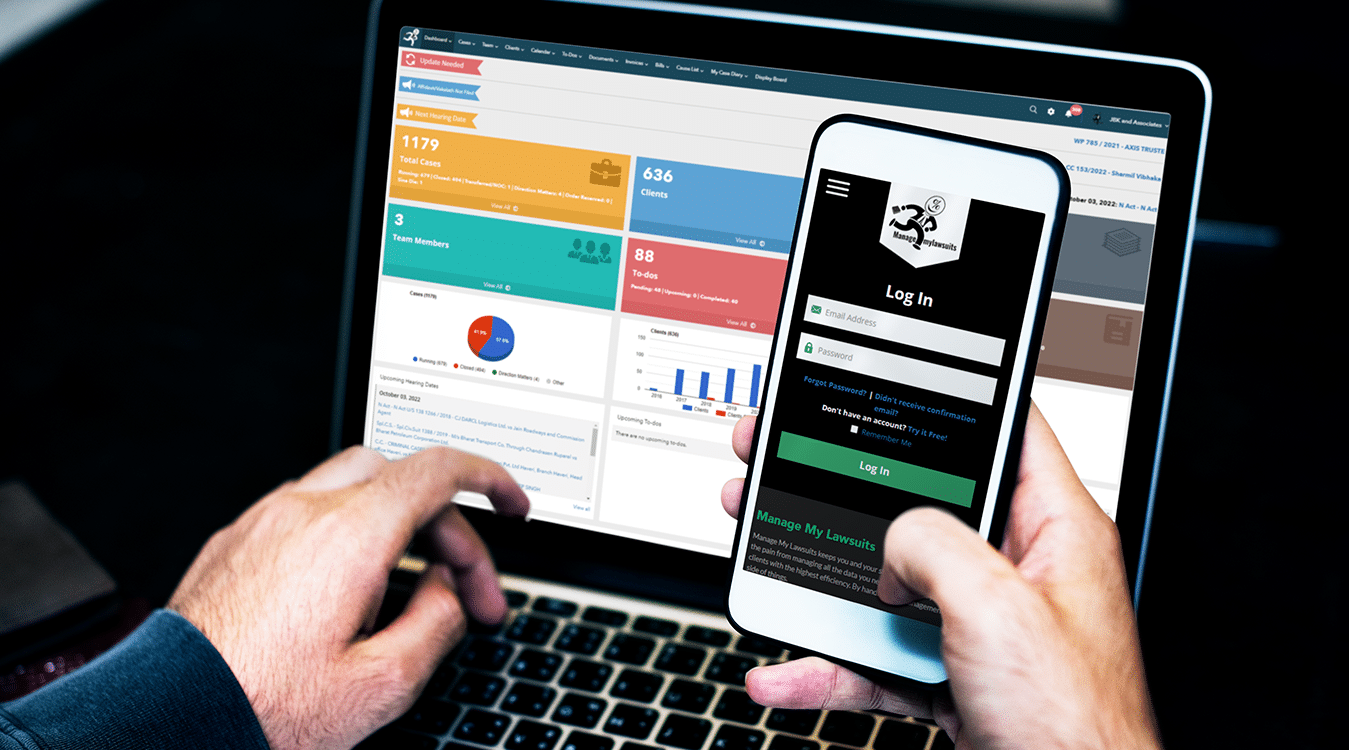 In today's digital age, technology can be a game changer for effortless accuracy. Law firms and legal departments should leverage technological resources that streamline processes, automate repetitive tasks and enhance collaboration.
Effortless accuracy is not an unattainable goal; it's a strategic approach that can revolutionise legal practice. It can be the game changer that sets you apart from the competition. It instills confidence in clients, strengthens professional relationships and ultimately leads to better outcomes.
Embrace the power of accuracy and make it effortless with the right technology and tools from Manage My Lawsuits.
Get a Free Demo of Manage My Lawsuits - A Powerful Litigation Management Software
We know this software is one of the best legal case management software but seeing is believing. Please submit the following form and we will call you back.
---
© Copyright Manage My Lawsuits, 2023. All Rights Reserved.