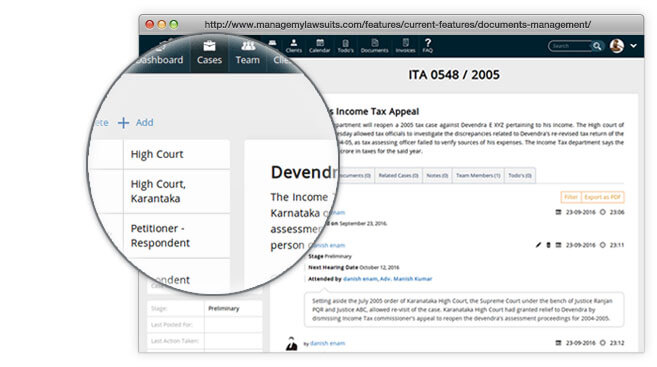 Once you transition case management to Manage My Lawsuits, you will be accessing a wide quantity and variety of information resources on your own secure web. Though the software offers a dashboard from where you can view information by case, client, document, to-dos, team member and invoices. You can also directly visit your case diary or cause list.
The 'search' box offers you a simple way of finding the answers you want amongst a huge mass of data. Just type the name of client, a mobile number or case number, one or more words of a task description or the title document, in the search box. The software matches the results to the exact search term(s) and highlights it. You can directly click on the result you want and continue from there. In a nutshell, Manage My Lawsuits is a highly searchable database that shows you the digital information you wish to find and read, on any internet-equipped device.
Get a Free Demo of Manage My Lawsuits - A Powerful Litigation Management Software
We know this software is one of the best legal case management software but seeing is believing. Please submit the following form and we will call you back.
---
© Copyright Manage My Lawsuits, 2023. All Rights Reserved.