From Chaos to Clarity – How Streamlined Document Management Can Transform Your Business
July 17, 2023
In today's digital age, it's surprising to see some law firms and legal departments still relying on stacks of physical files or scattered digital folders on their desktops. While the transition to digital storage was a step forward, it's clear that not all businesses have fully evolved their document management practices. These outdated practices lead to chaos aonly nd inefficiency.
It's time to step up your game and embrace streamlined document management.
Streamlining for better efficiency
Imagine a scenario where different people store files in their own unique ways. Some organise by client name, others by project and some simply dump everything in one folder. This lack of consistency creates confusion and makes it difficult to find and retrieve documents when needed. It's like trying to navigate through a maze with no clear path.
By adopting digital document management solutions, law firms and legal departments can ensure their files are always at their fingertips, thanks to the power of cloud storage. This accessibility is essential for maintaining productivity and efficiency in today's fast-paced legal environment.
The Benefits
The advantages of streamlined document management are numerous. We list a few salient ones here – 
 

Accessibility – It provides a centralised repository for all your documents. No more searching through countless locations or relying on others to find what you need. Everything is neatly organized and easily accessible with just a few clicks.

Game-changing searchability – Imagine finding a specific document within seconds by simply typing a keyword or phrase. Streamlined document management systems offer powerful search capabilities, allowing you to retrieve information quickly and efficiently.

Automation is another significant advantage. You can set reminders for important deadlines or expiring documents, ensuring you never miss a critical date. Court orders, lease agreement renewals – you name it and your system will remind you when action is needed.

Security – Streamlined document management has you covered. Physical documents are prone to damage, loss, or theft. But by digitizing and centralizing your documents, you can implement robust security measures, ensuring sensitive information is protected. Role-based access control, encryption and audit trails provide peace of mind and limit access to authorized individuals.

Collaboration is also made effortless with streamlined document management. Cloud-based solutions allow multiple team members to work on documents simultaneously, making it easy to track changes, share feedback and align everyone towards the same goal. No more endless email threads or access control issues.

Cost-saving potential – Storing physical files and maintaining a storage room can be expensive. But going digital not only saves on physical storage costs, it also reduces administrative tasks associated with managing paper documents. With streamlined document management, fewer personnel are needed to handle document-related tasks, freeing up resources for more valuable endeavours.
Transform from chaos to clarity with Manage My Lawsuits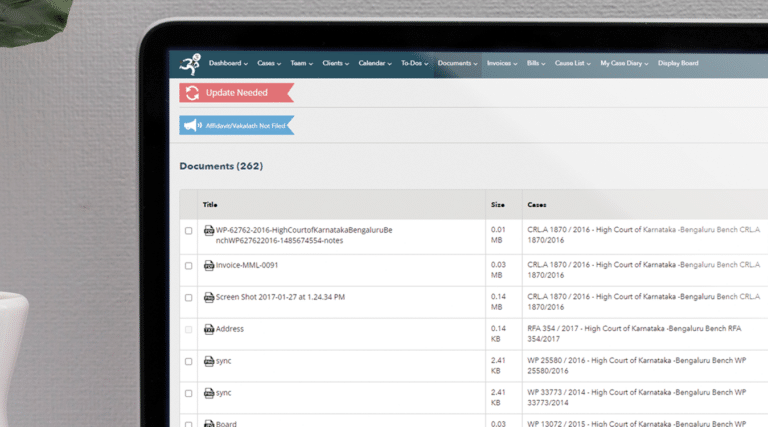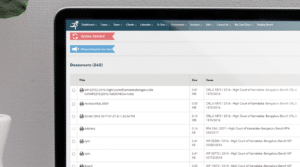 Streamlined document management brings an incredible transformation from chaos to clarity. It empowers your law firm or legal department by eliminating stress, allowing you to focus on important tasks and speeding up processes.
If you're ready to experience the benefits of streamlined document management, it's time to consider a comprehensive solution like Manage My Lawsuits. Embrace the power of digital document management and unlock the true potential of your business.
Say goodbye to chaos and welcome the clarity that streamlined document management brings with Manage My Lawsuits.
Get a Free Demo of Manage My Lawsuits - A Powerful Litigation Management Software
We know this software is one of the best legal case management software but seeing is believing. Please submit the following form and we will call you back.
---
© Copyright Manage My Lawsuits, 2023. All Rights Reserved.